On December 2020, we released a new Cookie Saver to adapt to the latest ITP 2.3 update. With this solution, we can keep ensuring the integrity of your cookies.
This article explains how to migrate an existing setup (created before December 2020) to the new version of Cookie Saver. This new solution is based on a method we named Alias cloaking, which we pioneered in response to the ITP 2.3 update about CNAME cloaking mitigation.
If you have multiple existing setups, perform the parts 2-4 multiple times.
To make things easier, we've also created a video guide: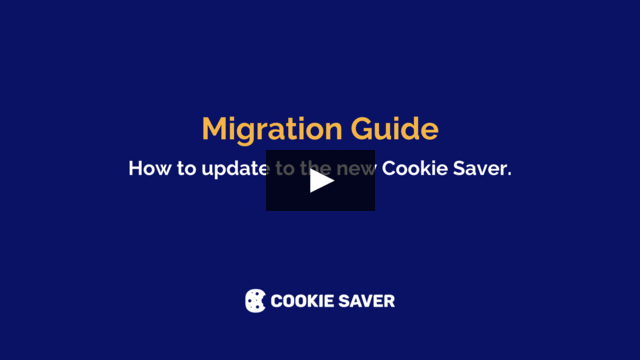 The process
1. Create a new account
Go to https://my.cookiesaver.io/users/create (If you are a reseller use this link instead: https://my.cookiesaver.io/resellers/create).


Enter your information and click the 'Sign up' button at the bottom of the page.


A confirmation email will be sent. It may take a few minutes to arrive. Remember to check your spam folder. Once the email arrives, click the 'Verify Email Address' button.
2. Create a new setup
Log into your new account here: https://my.cookiesaver.io.


In the top menu, click 'New Setup'.


Enter a name for the setup and select the appropriate plan.


Now it is time to choose domains. It is important not to choose the same subdomain as before, as it will conflict with the existing setup. E.g. if your current setup has the subdomain fpc.mywebsite.com, you cannot reuse the 'fpc' subdomain prefix. As an example, you could use cookiesaver.mywebsite.com.


With that in mind, you're ready to enter the domains. You'll notice, that the form looks different (see the screenshot below).


The 'Subdomain' field now only contains the prefix part. E.g. 'fpc' or 'cookiesaver' from the examples above. This value will automatically be added to the domains entered below. So start by entering the subdomain prefix in this field. Again, if you're already using 'fpc' for the existing setup, you must choose something else, e.g. 'cookiesaver'.


Then enter the domains you want to use. You can find the domains you're currently using on your old account. Remember to remove the subdomain prefix, i.e. the first parts of the listed domain up to and including the first dot.

To add more than one domain click the 'Add Domain' button.


When you entered all the domains, click the 'Create button' to start the creation process.


After 10-20 minutes, you'll receive an email notifying you that your DNS record information is ready. The required DNS records are listed in the email. These must now be created with your DNS provider. Notice, that the type of record is now 'NS' rather than 'CNAME'.


When you've created the DNS records, log into the new account, here: https://my.cookiesaver.io. Find your setup in the list and click the 'Edit' button. See screenshot below.


Click the 'Validate all DNS' button. The remaining part of the creation process will commence if the DNS validation was successful. The process usually takes 10-15 minutes. Refresh the page every once in a while until the status changes to 'Active'.
3. Update the Tag Manager script
The script in your Tag Manager still points to the old setup with the old subdomain. To make them point to the new domains, change the endpoint (the new domain you have chosen to use with the new Cookie Saver). To continue the example from point 2.4, change the current endpoint fpc.mywebsite.com to the new one cookiesaver.mywebsite.com.
Note that only the endpoint should be changed. The rest of the configuration will remain unchanged.
4. Cancel the old setup
Log in to your old account here: https://app.cookiesaver.io.


Find the setup in the list and click the 'Cancel' link.